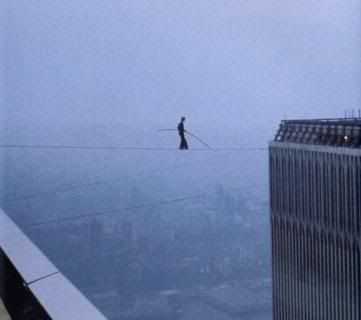 'Man on Wire' is a documentary about Frenchman Phillipe Petit who, with the assistance of several friends and associates, manages to high-wire walk (HWW) between the two World Trade Center buildings in 1974. This is great material for a doco, as it's a great story that appears to have been forgotten over the years (I hadn't even heard of it until this film) and is worthy of retelling.
While it had memorable segments, I was somewhat disappointed (especially considering the hype surrounding it) and found it to be very similar in standard to the 'Inside Deep Throat' doco which I reviewed here a couple of years back. It's slick and entertaining, but it wasn't as penetrating as it could've been, covered too much territory and there was an overall air of smugness.
MOW can be broken down into three chunks; the beginning gives us the introduction to Petit's persona and motivations for this adventure, the middle section covers the buildup and planning of the WTC HWW (including footage of earlier such high-wire acts on large buildings) and the conclusion covers the actual high-wire act itself and (briefly) the aftermath.
I found that while the beginning and concluding sections were compelling, the middle section with the buildup and planning of the HWW to be less interesting, even tedious at times. There are a couple of reasons for this. Firstly the film mentions there were tensions between Petit and his colleagues during the buildup to the event but it never goes into detail about what those tensions were and hence feels rather superficial; I suspect because the filmmakers wanted to portray Petit in the best light possible. Secondly, there's a section devoted to some 'colourful' new characters in America who join in to help this HWW; I didn't find that section particularly interesting and could've been cut from the film.
Instead, they should've spent more time interviewing Petit's then girlfriend (Annie Allix). She's easily the most interesting interviewee (apart from Petit himself) in the film and it's a bit of a missed opportunity that they didn't probe further into her comments about her relationship with Petit (again, perhaps because it may have portrayed Petit in a less favorable light).
While there are significant flaws in the doco, that isn't to say there isn't much to admire about it. Technically it's an impressive combination of talking heads, re-enactments and – best of all – old home movie footage of Petit preparing and training for this in his home and some earlier HWA done in places like the Sydney Harbour Bridge. Director James Marsh does a slick job… perhaps too slick at times. For example, whenever a new interviewee is introduced they get their own special introduction as if they're a star in a credits sequence of a TV show. It's a minor thing, but it was just pointless showing off.
How does Petit come across in the doco? He's charismatic, eccentric, passionate, self-absorbed, always interesting and his comments are often memorable; a standout observation is when he says that there wouldn't be a better way to die then while performing a HWA which was his life's passion. As I've mentioned above, in the depiction of Petit there does seem an element of the filmmakers wanting to overlook any more negative aspects of his persona (which do come through anyway).
Overall, this is a moderately impressive film which had the scope for being a classic, but failed. But I get the feeling my reaction to it is vastly different to what the general public's will be. The response from the crowd I saw it with at the Melbourne International Film Festival was very positive (a lot of spontaneous clapping) and as I was leaving the cinema I overheard someone answer the question of what they thought of film by saying "It was f***ing awesome."
Finally, throughout the film I kept waiting for the doco to make reference to the S11 attacks which of course destroyed the WTC. No reference is actually made, which I thought was a nice touch.
Note: Above image is copyright http://www.filmcriticblogs.com/